PARENTS PLEASE NOTE:
The Advanced Placement Research class at Habersham Central will be conducting optional and anonymous student surveys before and after school and/or during all lunch shifts starting November 12, 2018 until December10, 2018 and from January 7, 2019 to January 18, 2019. These surveys will cover topics on perceptions of academic ability, music preference, personality types, and class choice/preference. Not all students will be surveyed as participation is optional and voluntary. These surveys will be used for educational purposes inside the classroom. These studies have been approved by HCHS Principal, Mr. Jonathan Stribling. If you would like to preview the surveys or you do not want your child to participate please contact Dr. Kathleen Addison at kaddison@habershamschools.com or (706)-778-7161.
La clase de Investigación de Colocación Avanzada en Habersham Central llevará a cabo encuestas opcionales y anónimas para estudiantes antes y después de la escuela y / o durante todos los turnos de almuerzo desde el 12 de noviembre de 2018 hasta el 10 de diciembre de 2018 y del 7 de enero de 2019 al 18 de enero de 2019. Estas encuestas cubrirán temas sobre las percepciones de la capacidad académica, preferencia musical, tipos de personalidad y elección / preferencia de clase. No todos los estudiantes serán encuestados ya que la participación es opcional y voluntaria. Estas encuestas se utilizarán con fines educativos dentro del aula. Estos estudios han sido aprobados por el director de HCHS, el Sr. Jonathan Stribling. Si desea obtener una vista previa de las encuestas o no desea que su hijo/a participe, comuníquese con la Dra. Kathleen Addison en kaddison@habershamschools.com o al (706) -778-7161.
______________________________________________________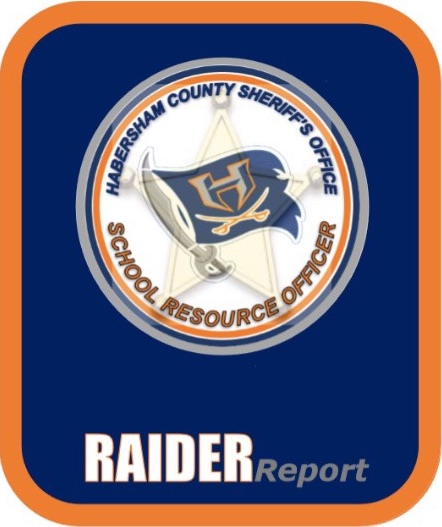 (CLICK LOGO OR TITLE)
________________________________________________________________________________
For Free and Reduced Lunch Applications, Please Click HERE!
_____________________________
Seniors!! Stay Informed! Follow on Twitter and Instagram for the latest Class of 2019 information!
@hcraiders2019
hcraiders2019.weebly.com